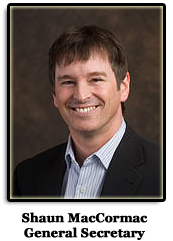 Thoughts and Comments by Shaun MacCormac

As I write this article, I am cognizant that you will likely be reading this before the holiday break. In that light, I am trying so hard to be more like Santa and less like Scrooge, but that is a bit of a challenge these days.

The Economic Welfare Committee continues to struggle to make any headway in negotiations with the ENA on a new collective agreement. We have spent more than twenty-two days at the bargaining table starting in April of this year. There are no new dates set for the two committees to come back together, despite being far apart on many issues. There has been some work done by Jordan Brown, Minister of Education (EL&C), to try and move negotiations forward and we appreciate that effort. There has been no actual communication, however, on what that work has been or what it entails, so we will wait, impatiently, to hear any particulars on that work from the ENA.

What remains particularly distressing is that the Federation has been at the bargaining table for more than fifty days with the MacLauchlan Government with only one arbitrated settlement to show for all of that time. In fact, we had to go back to the Arbitration Board to force the MacLauchlan Government to honour that arbitration award and follow its own Regulations on the process.

For those of you who do not know, for more than thirty years the Federation and previous Governments have used an expedited process of bargaining where the two sides bargain for only nine days and then conclude an agreement. In the past thirty years, prior to this Government, there have only been two arbitrated settlements to my knowledge. Both of those were influenced by the 7% rollback of public sector wages, including teachers' wages, by the then Catherine Callbeck Liberal Government. It is looking very likely we will be going to arbitration with this Government for the second straight time.

Going to arbitration is not necessarily a bad thing, sometimes the issues are contentious, and the expectations high. This was not the case, however, the last time. The Federation was merely looking to follow the wage increase pattern set with the other public sector unions. This Government, however, did not want to give teachers that pattern, and thus took teachers to arbitration after a lengthy and arduous process of thirty days of bargaining, conciliation and then arbitration.

This time around, the issues are more contentious for the Federation. The Government, so far, refuses to offer wage increases that would even meet PEI's cost of living increases, despite a record surplus ( which doesn't include cannabis revenue). It will not admit at the bargaining table that there is a teacher and substitute teacher shortage across the country. It does not want to bargain class size caps or guaranteed preparation time.

Most disturbing, however, is it will not bargain other working conditions that seek to limit the limitless work expectations that exist for teachers. The Federation continues to push for daily and yearly limits to the demands put on teachers and their time, so they can have some work-life balance and the ability to spend quality time with their families. Included in that concern is the continued encroachment on the time that teachers as administrators are supposed to have during the summer months.

It has been challenging to figure out what this Government thinks about teachers. Other than the quality of the current Minister, Deputy Minister and Department of Education, there has been little evidence from Cabinet and the Premier's Office that there has been much consideration of teachers, especially when it comes to pay and working conditions and bargaining in general.

Investments into social services and EAL supports for students, although appreciated, are not direct investments for the education of all students and have little direct impact on classroom teachers from across the province who are struggling to meet the diverse and increasing academic (and social) needs of their students. Creating one English school board, and then taking over that board, does not help teachers teach or students learn. Closing schools, opening schools, renovating schools don't do much in that regard either, and whatever happened to the 2015 statement by this Government to "Undertake a review of current programs for students with special needs."?

Oh well, I guess, despite my efforts, Scrooge won out. Hopefully, that leaves more Santa to go around and that he gives you all a restful and joyful holiday break. I am sure he knows that you deserve it.

Be good to yourselves and each other.