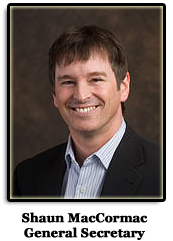 Thoughts and Comments by Shaun MacCormac

Another school year is near its end and, like always, it has been an interesting one. With your indulgence, I will highlight the positives and not the challenges, which I am well aware exist in our classrooms and our education system.

Maybe not so apparent to many teachers is the fact that PEI is an anomaly compared to our Canadian counterparts. For example, our current Premier is not Doug Ford or Stephen McNeil. Our fiscal situation is positive, unlike Newfoundland and Labrador's and New Brunswick's. Our relationship with all education stakeholders is positive, and our new Government is even more teacher-friendly than the last one was.

Although you, individually; may not be benefiting at this time, there has been a continued influx of teaching positions, and these are beginning to have a positive impact in the areas that these positions have been targeted for. We are expecting an even greater influx of teaching positions in the near future, given the promises made by the PCs during the election campaign and the current financial position the province is in. The Provincial Budget has not been released at the time that I am writing this article, but all the signs are pointing to education as being a key target of provincial spending.

As promising as additional teaching positions, is the fact that the new Government seems genuinely interested in finding out how best to use these and all teaching positions. The Joint Committee on Teaching and Learning Conditions, which was formed through the new Memorandum of Agreement (MOA), has had its initial meeting and a report is being drafted for the Minister that lays out the challenges that exist in staffing schools to meet all the needs within our system. The Federation is cautiously optimistic about the potential of this committee combined with the new Government and its current interest in hearing (and listening to!) input from teachers.

As you are aware, a new Memorandum of Agreement was negotiated before the election, and several positive changes were made, including an increase in salary that is the best for teachers in Atlantic Canada, if not all of Canada. In terms of the bargaining process, we are hopeful that the new Government will return to the expedited process with negotiations taking only ten days and a new collective agreement ratified before the expiry of the old one. We will wait to see if it comes about. In the meantime, we will work with the new Government to try and address some of the major issues that we couldn't get agreement on during this past round of bargaining.

The next school year will no doubt bring about more changes in education. Each new Government has its own ideas about what and how things should be done. We are hopeful that those decisions are sound, well-reasoned, and fully supported within the system. Teachers are used to change, but they are tired of the number of changes that have occurred over the past five or so years. Hopefully, the vast majority of changes will be positive ones for teachers and students.

Thankfully, you have the summer to rest up and get mentally prepared for whatever comes our way in the fall. I hope you all have an enjoyable and re-invigorating break and you take some time for yourselves. Be good to each other.